Marriage, Divorce, Widowhood Remain Prevalent Among Older Populations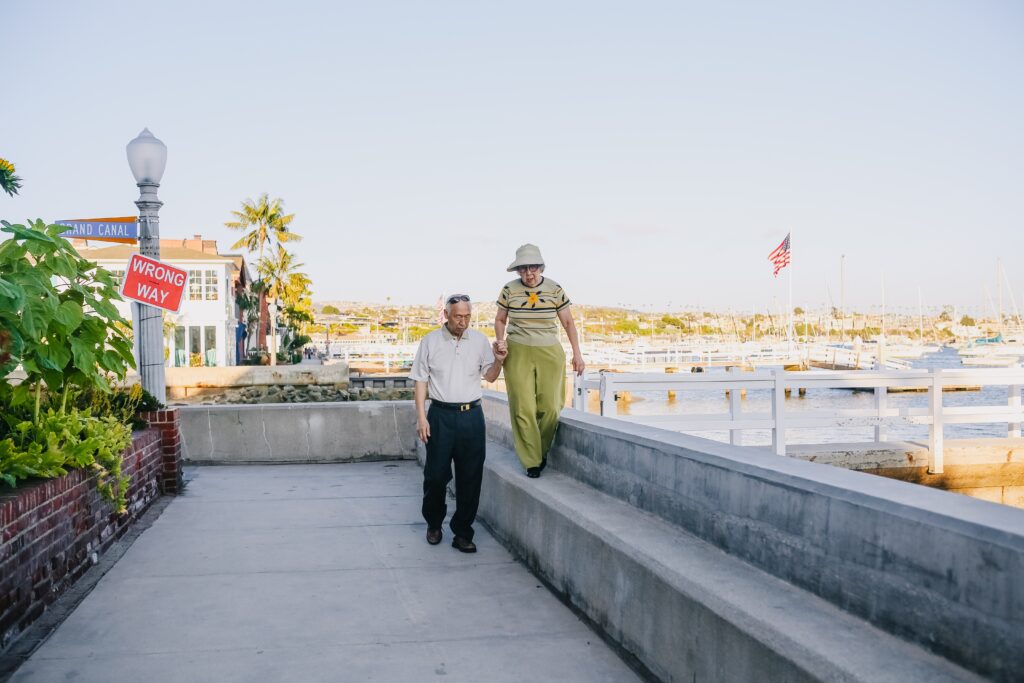 BENJAMIN GURRENTZ AND YERIS MAYOL-GARCIA
Marriage, divorce and widowhood are all significant events in the lives of anyone who has ever been married but they are especially prevalent among the older population.
Older adults have rich marital histories that reflect both partnership and loss over their lifetime, according to a new U.S. Census Bureau report entitled, "Number, Timing, and Duration of Marriages and Divorces: 2016."
The report uses estimates from the 2016 1-year American Community Survey (ACS), as well as the 2014 Survey of Income and Program Participation (SIPP) Wave 1 and Social Security Administration Supplement files.
Marriage
At least 9 in 10 adults ages 60 or older have been married. Specifically, 91% of men and 92% of women ages 60 to 69 and 95% of both men and women ages 70 or older have been married.
These estimates are much higher than for all men (63%) and women (69%) ages 15 or older.
Many older adults remained in their marriage for a long period of time. Among adults who married in the 1970s, at least half reached their 25th anniversary.
At least 59% of adults ages 60 or older have been married just once. Among those ages 60 to 69-years, 46% of men and 39% of women are still married to the first and only person they wed.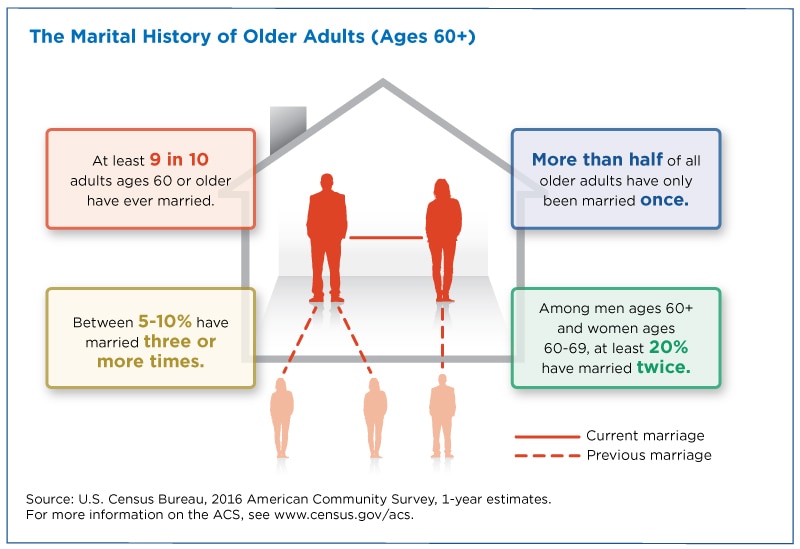 Divorce
With marriage comes the risk of a marital dissolution via divorce or widowhood, which have both been prevalent among older adults.
While 34% women and 33% of men ages 20 or older who ever married had ever divorced, the percentage of adults 55 to 64 years who ever divorced is much higher: about 43% for both sexes.
Although significantly lower when compared with 55 to 64 year olds, high rates of divorce persist for those 65 to 74 years at 39%, which is still higher than for the general adult population. For adults ages 75 or older, the rate is lower at 24%.
Since the 1990s, the national trend of divorce among adults 50 years or older has risen, often linked to the marital instability of the aging baby boomer generation.
Widowhood
Divorce is not the only marital disruption that older adults face. They also disproportionately represent a large percentage of those who become widows or widowers in a given year.
Among adults 15 or older widowed in the preceding 12 months, 71% of men and 69% of women were 65 or older, even though this age group comprises only 19% of all people ages 15 or older.
Widowhood is particularly common among older women compared to older men due to differences in life expectancies. Women on average live longer than men.
Among those 75 years or older who had ever married, 58% of women and 28% of men had experienced the death of a spouse in their lifetime, making this stage of life particularly difficult for older adults.
The proportion of those who are currently widowed is relatively lower than for those widowed at one point because some respondents who lost a spouse eventually remarried, becoming "currently married" instead of "currently widowed."
Nonetheless, differences between the sexes persist among those 75 years or older: 54% of women and 20% of men were currently widowed at the time of interview.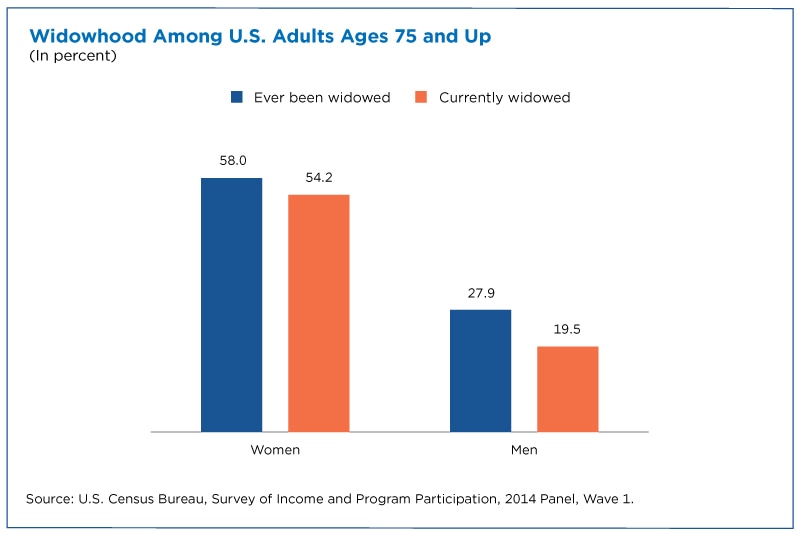 Remarriage
After divorce and widowhood, many older adults say "I do" again at some point in their life.
Among men and women 60 to 69 years old, 23% had married twice and less than 10% had married three times or more. Among those ages 70 or older, 22% of men and 19% of women had married twice while 8% of men and 6% of women had married three times or more.
In other words, older adults have a rich marital history that reflects the diverse experiences of long commitment, loss via divorce or widowhood and new partnerships as they age.
Benjamin Gurrentz is a survey statistician in the Census Bureau's Survey Improvement Research Branch.
Yeris Mayol-Garcia is a statistician demographer in the Fertility and Family Statistics Branch.