$717,930 Worth of Fake Jewelry Seized by Cincinnati CBP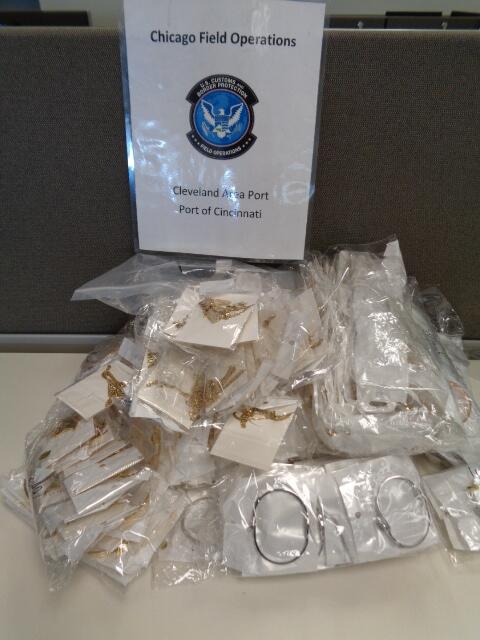 On May 20, U.S. Customs and Border Protection (CBP) officers in Cincinnati seized 364 pieces of counterfeit jewelry items from a shipment of stainless-steel bracelets originating in China. Officers found necklaces, bracelets, earrings, and other items bearing trademarks from Michael Kors, Louis Vuitton, Gucci, and Chanel mixed in with jewelry that did not have protected trademarks.
The shipment had a manifested value of $367, but had the jewelry been genuine, it would have been worth $717,930. The package was headed to an address in New York, New York.
Intellectual property rights (IPR) protection is a priority trade issue for CBP. In Fiscal Year (FY) 2019, CBP and their partner agency Homeland Security Investigations seized 27,599 shipments containing IPR violations with a manufacturer's suggested retail price of over $1.5 billion had the goods been genuine. Watches and jewelry represent 15 percent of all IPR seizures and continue to top the list of all seized IPR materials.
"Protecting the American economy protects the American people," said Cincinnati Port Director Richard Gillespie. "Our officers continue to use their training, knowledge, and skills to identify high-risk shipments and shut down illicit suppliers."
CBP has established an educational initiative to raise consumer awareness about the consequences and dangers that are often associated with the purchase of counterfeit and pirated goods. Information about the Truth Behind Counterfeits public awareness campaign can be found at https://www.cbp.gov/FakeGoodsRealDangers.
CBP conducts operations at ports of entry throughout the United States, and regularly screens arriving international passengers and cargo for narcotics, weapons, and other restricted or prohibited products. CBP strives to serve as the premier law enforcement agency enhancing the Nation's safety, security, and prosperity through collaboration, innovation, and integration.